Bringing pattern into your home may not be for everyone especially if you're a fan of solid colors, but adding prints and patterns can instantly make any space have that lived-in feel that's definitely cozier and more personal. If it's a bit overwhelming for you, keep reading to check out some of our favorite ways to introduce pattern so you have an idea where to start.
Geometric Wallpapers
One of the trends that took the modern design world by storm is the use of geometric wallpapers. The combination of graphic lines complemented by a beautiful color scheme can make an instant style statement in any space. If you want something really striking, you can make it floor-to-ceiling, or cover the entire room for a more dramatic and contemporary look.
Pillow Cases
This is perfect for those who like switching things up every now and then. There are also different styles that are available depending on your budget so you can change them as often as you like. Look for pillow cases with patterns that will complement the look of your room, or patterns that will highlight the space's color scheme.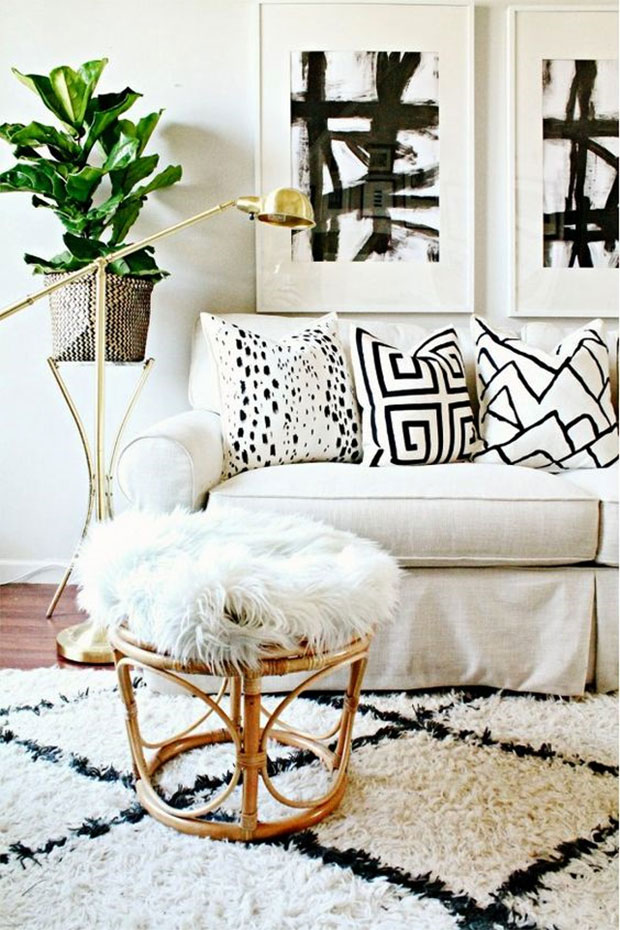 Rugs and Carpets
An eye-catching rug or carpet can make a real impact to any room. The patterns can be subtle for timeless sophistication, or with bold prints and bursting with colors for a striking statement. If you want to showcase a free-spirited style, try layering a few one-of-a-kind rugs. This style trick works best if the rugs are from the same color palettes.
Window Treatments
Dress up your windows with colorful patterned drapes to instantly revamp the look of any room. Bold and large patterns can also add depth especially to a small space. If you're not a fan of large patterns, you can also use vertical stripes with lively color to make the room look like it has a higher ceiling.
Accent Chairs
This will not only add a unique personality to your space but it also provides an area to relax. Choose one with beautiful prints to match your taste but don't forget that it also needs to be comfortable with extra plush seating. Make sure to get one that goes well with your room, though. If not, it will end up sticking out like sore thumb instead of acting as an accent piece.
Upholstered Headboard
Another fun way to introduce pattern especially in your bedroom is through upholstered headboard. It depends on how you like it but an oversized one can really make a statement like a wall art, especially with a stunning pattern. A tall headboard, or the one that extends to the ceiling, is also a chic option.
Towels
You need to change your towels a couple of times a week so might as well pick those that can accentuate your home design. When buying one, make sure to always have your color scheme in mind so you don't end up getting a pattern that will clash with your existing pieces.
Want to learn more how to improve your home design? Send us an e-mail and we'll be happy to assist you.