We usually rely on pattern and color when we want to make a design statement. But if you're looking for an even more dramatic interior design scheme, you should consider checking if the space has enough texture. Texture adds dimension and makes any room more interesting. A mix of different textures also helps create a "collected" look. Here are some examples on how you can incorporate texture in your home décor:
Add Texture with Textiles
One of the most easiest and budget-friendly ways to add texture to your home décor is through textiles. Rugs, pillows, bedspreads, curtains, and event upholstery can instantly add coziness to any room. For example, you can try rug layering. Simply pick two different colors and textures to spruce up a room, or add a fur blanket to add a luxurious vibe to your interior.
Use a Metallic Décor
Whether it's brass, copper, or silver, a touch of metallic décor can make your room cooler. There are many different metal touches to choose from to suit your style and color scheme. For an elegant feel in your living room, consider getting a copper coffee table or add silver metallic vases and accessories. You can also get more creative in your bathroom by using a brass mirror frame that matches the faucets.
Use Woods
There are different ways to use woods for adding texture—as accent walls, a carefully chosen wood furniture, or even as accessories. It also adds warmth and a cozy visual statement to any space. If you're using it as an accent piece, always remember that it's important to consider the balance in the space as wood itself can have a lot of character. Just make sure that it's not overpowering a room.
Consider Using Stone/Bricks
Brick accent walls have been super trendy recently and it's perfect because it can complement any interior décor, whether it's shabby chic or industrial. You can restore an existing brick wall or use faux brick panels or faux stones. Use it in the kitchen instead of making a traditional backsplash, or add a cozy rustic touch to the living room with an exposed brick wall.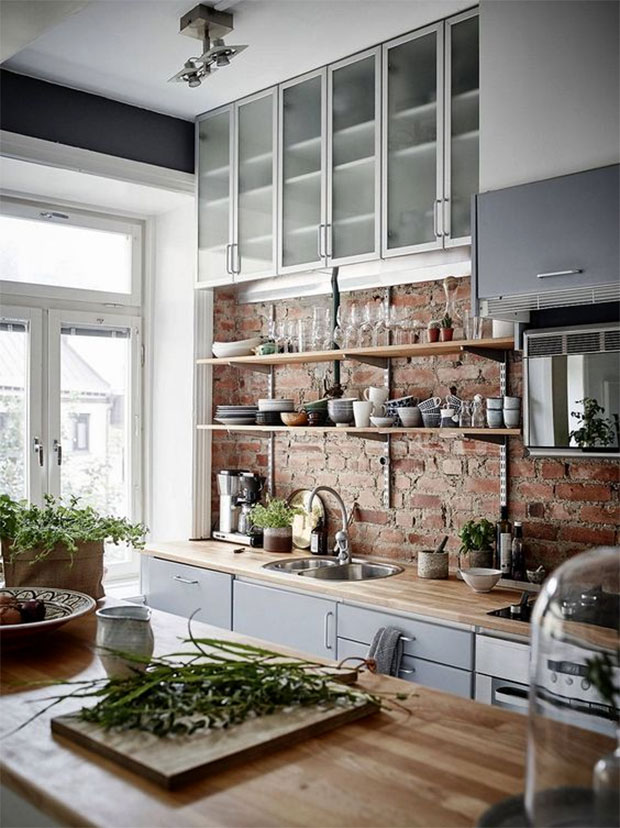 Add texture with Books
Books are for reading but you can also use it as part of your décor. A wall of books definitely adds a lot of warmth and break up the space for added interest. You can use this whether you have an eclectic or a contemporary space. It's also a bonus because books also give a pop of color especially if you have an all-white aesthetic.
Light Fixtures
A unique light fixture can easily give your space an instant upgrade. You can choose one with crystals to give a more sophisticated and dramatic vibe while providing that gentle mood, or use a modern, geometric light fixture to highlight the stylish and contemporary look of your place.

Add Plants
Plants don't just bring good vibes to your home but they also purify the air and add a subtle texture with their glossy leaves. If you don't have a green thumb, you can use a high quality faux green plants that look realistic. Just remember to put them it in a spot where it could actually grow if it wasn't faux so it won't be too obvious.
Need help making your space more visually appealing? Send us an e-mail and we'll be help!